Thank you to our presenter, Kenny Maddock from Dundee Organix and all of our participants who joined us for the Seed Planting Workshop on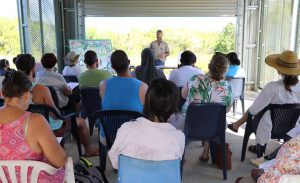 Sunday.
Kenny generously shared his knowledge and passion for tropical organic food production.
His key message being to look after your soil. Healthy, living soil is vital for growing productive and resilient food plants. The better the soil the more nutritious and tasty the produce.
If you would like to find out more about Dundee Organix, their growing tips and/or purchase their organic, open pollinated, hierloom seeds check out their website: https://dundeeorganix.com.au/
I would also like to warmly welcome our 14 new members who signed up on Sunday and wish everyone good luck with their take away seed pots. Let us know how you go.