The Land
The site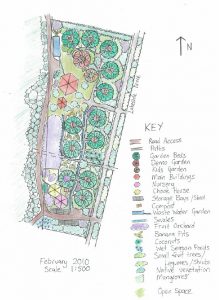 The Lakeside Drive Community Garden project is located on the campus of Charles Darwin University on land leased from the City of Darwin. The size of the community garden is approximately 8,000 m². The community garden project area is part of the Alawa Oval lease which was issued in 1993 for 30 years and expires in 2022. CDU has a further option to extend the lease to 2042.
The project has the support of both the City of Darwin Council and CDU.
The soil
In February 2009 with the assistance of the CDU Horticulture Team, CDU students collected and tested soil samples to ensure the suitability of the site. It was revealed that the soil is suitable for growing fruit and vegetables.
Further soil, fruit, vegetable and herb samples were taken in Nov 2017 by the Department of Defense to determine the nature and extent of per- and poly- fluoralkyl substances (PFAS) on the site. High levels had been detected in Rapid Creek that runs on the boundary of LDCG. The garden site was found not to be contaminated. All of the samples were below the environmental screening criteria for fruit and vegetables.